The most popular types of boiler we install
Learn about different boilers to find your ideal replacement:
Conventional Boilers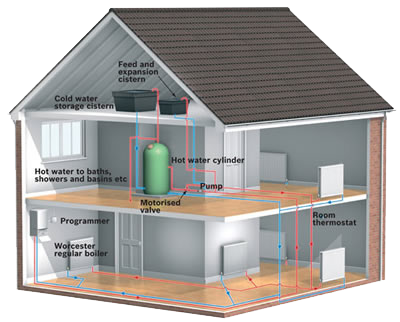 Worcester-Bosch, Vaillant, Potterton
Many homes are fitted with a conventional boiler system. It has a water tank, usually situated in the loft, which draws cold water from the mains supply. This water from the storage tank then feeds a cylinder that is normally housed within the airing cupboard. Next, a central heating condensing boiler heats the cylinder which provides gallons of hot water to taps throughout the house. An additional pump also circulates hot water to the radiators.
This system provides faster flow rates than a combination boiler and is solar compatible. However, hot water can take time to heat up and you have a limited amount.
For more information or a free quote on a conventional boiler call 020 8863 1155.
Combination Boilers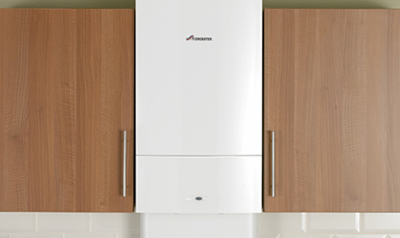 Worcester-Bosch, Vaillant, Potterton
Known also as "combi boilers", these hot water systems provide an endless supply of hot water and are economical to run. Cold water is fed directly to the combination bolier from the mains and will heat water instantly as and when you need it.
They are a great space saver so there is no need for a storage cylinder and you will never run out of hot water. The water pressure is dependant upon your mains water flow, so Peter Brown Plumbing & Heating can advise you if this central heating system is the right option for your needs.
For more information or a free quote on a combi boiler call 020 8863 1155.
Unvented Boiler Systems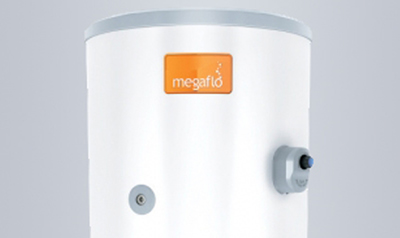 Megaflo, Heatrae, Baxi, Worcester
Unlike a conventional vented boiler system, unvented hot water cylinders take up less space and can be situated almost anywhere in the house. Cold water is supplied directly to the tank which relies on mains pressure to distribute a stronger hot water flow around the home as opposed to gravity from a water tank in the loft.
The unvented hot water cylinder boast many features such as their general safety, more controlling options, faster reheating times and minimal heat loss. This heating system is not as simple to install as a conventional boiler system and does require the expertise of a specialist engineer, but there are plenty of benefits for homes with multiple bathrooms, showers and tap outlets and can save you money on your utility bills.
For more information or a free quote on an unvented boiler call 020 8863 1155.