Solar Water Heater Installation in Harrow
If you're looking for a Solar water heating installation expert in Harrow, then our reliable, highly experienced and competitively priced team can help.
Peter Brown Plumbing & Heating can help your household reduce carbon emissions and save money on an ongoing basis by installing a solar hot water system.
There are a number of products available and Peter Brown can advise you of the right solar hot water products and heat pumps for your home or office.
How do Solar Hot Water systems work?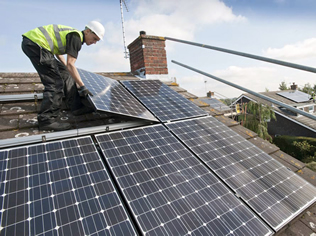 A solar hot water system uses the sun's energy to heat a flat glass plated collector with copper pipes full of solar fluid which is connected to your home's hot water storage tank. The solar fluid will also protect the system from freezing.
When the fluid is hot enough to be drawn from the solar collectors, a controlled device automatically activates the pumps to circulate it to the solar storage tank where a heat exchanger transfers this heat to a Solar storage tank. Solar heated water from this tank is then drawn into the main water heater.
Even if there is little or no sun, the main water heater will still function providing ample hot water for your home.
How much energy and money can you save?
Solar energy and its hot water systems can reduce your hot water bills by up to 75% and will therefore pay for itself between 4 to 8 years. Over recent years the technology in solar hot water systems is now far more advanced making it an affordable purchase and it provides a greater energy output compared with other renewable energy systems in your home. As well as being financially rewarding, it is also environmentally friendly.
Which Solar Water Heating System Is Right For My Home?
Peter Brown Plumbing & Heating are more than happy to visit your home and survey your property to advise you of the best products on the market that is right for your needs. With the advances in technology, modern solar hot water systems are now streamlined to appear less intrusive and are lighter weight making it easier to install on most properties.
For more information about our Solar Hot Water Systems call us now on 020 8863 1155.
Which? Trusted Trader Reviews
We are proud to be Which? Trusted Trader approved with 5* Reviews. You can read our superb plumbing reviews and feel free to write your own review.