Underfloor heating installation, servicing and repair
in Harrow & North West London
If you're looking for a reliable, professional and expert underfloor heating system installer or repairer in North West London and surrounding areas, then we can help. Our specialist team can install, service and repair wet and electric systems.
Peter Brown's underfloor heating specialists work across Harrow and North West London suburbs
Our underfloor heating installers specialise in wet systems which pump hot water through the pipes under your floor. Book a visit from Peter Brown underfloor heating installer to discuss the best system for you.
Underfloor heating: what is it and what are its benefits?
Underfloor heating is a system of pipes that distribute warm water beneath the finished floor. It is controlled and monitored by smart thermostats to ensure that the temperature stays consistent throughout your home.
For many homeowners, radiators are not an ideal solution. They take up far too much wall space and much of the extra heat they generate is often blocked off partly or fully by furniture that's put in front of it.
As a result, they end up paying a lot of money to heat the wrong places whilst their family puts on extra layers of clothing on to keep warm.
Underfloor heating is a solution that more and more Harrow homeowners are turning to so that they can keep their rooms at the temperature they want and to clear their walls of unsightly radiators.
Electric underfloor heating
We only install electric (dry) underfloor heating in bathrooms that will be tiled over as it is generally too expensive to run in large areas.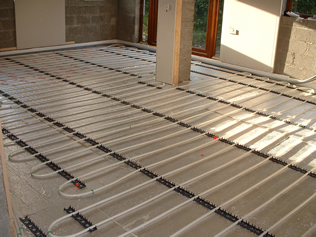 Why do homeowners invest in underfloor heating?
The heat from the underfloor pipes rises to provide warmth to your home and the temperature is fully controllable.
You can choose the temperature you want for each room in which you've installed your underfloor heating system. Energy experts agree that underfloor heating means lower energy bills because they don't have to work as hard to provide you with the warmth you want as radiators do.
Which rooms can I install underfloor heating in?
The most popular rooms for underfloor heating installation among Peter Brown customers are the bathroom, bedrooms, the kitchen, and the living room.
We're being asked more and more by clients to retrospectively fit underfloor heating in their conservatories so that they can get better use out of them during the colder months.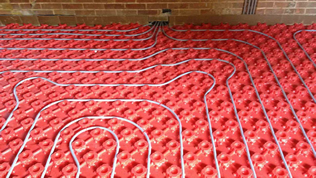 How long will your underfloor heating installers take?
A wet system takes between 2-4 days for a team of underfloor heating installers to fit. The rooms which you've selected the system for will require some preparation so that we can lay the pipes in the places necessary to provide the desired level of heat. Part of the installation process is fitting insulation under the pipes so that little or no heat is lost to the floor.
Get in touch with our Harrow-based team for a visit from one of our expert underfloor heating engineers
Working from Harrow, the Peter Brown team have successfully installed underfloor heating in hundreds of homes throughout Harrow and North West London.
Contact us now for a free no obligation quote.
5 star Google review for our underfloor heating services
Underfloor heating Reviewed by BK on "Great guys. Very professional. Used the team for a boiler service and to check my underfloor heating. The underfloor could not be fixed and a quick check was done (no charge made given the situation)."
Rating: 5

Which? Trusted Traders Reviews
We are proud to be Which? Trusted Traders approved with 5 Star Reviews. You can read our superb plumbing reviews and feel free to write your own review.