Why disinfect hot and cold hot water supply systems?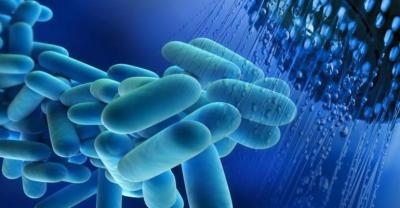 The primary methods for controlling Legionella and other bacteria in hot and cold water systems is temperature and the movement of water. Where this cannot be reliably achieved, or if remedial works have been carried out, chemical disinfection may be required.
Chemical disinfection is a process used to remove micro-organisms, kill them or reduce their number to a non-hazardous level. A microorganism is an organism of microscopic size and includes bacteria, algae, fungi and viruses.
One of the most publicised forms of bacteria affecting cold and hot water systems, occasionally with fatal consequences, is Legionella. This is a type of aerobic bacterium (i.e. requires oxygen unlike anaerobic bacterium) which is commonly found in environmental waters but can grow to high numbers in warm water at the temperature of 20 – 50°C.
Given the right 'chain of conditions' from entering a water supply system to being inhaled by a susceptible human, the Legionella bacteria can develop into Legionnaires' disease, a form of pneumonia that can cause serious illness or even death.
Landlords, you now have a legal obligation to test for Legionella!
If you have a residential property with flats to let or rent out a room in a house, even though it may carry a low risk from legionella, you must still carry out a Legionella bacteria risk assessment.
While there is no legal legionella test certificate required by the Health and Safety Executive (HSE), landlords must still be able to prove that they have correctly risk assessed their property and are controlling any known issues to keep their tenants safe.
Who can perform the risk assessment?
HSE states in its official guidance document that a competent person must be "appointed to carry out the risk assessment and draw up and implement precautionary measures". Although the competent person could be the landlord or letting agent (if they have the relevant training and experience), it is usually performed by an independent fully qualified professional such as Peter Brown Plumbing.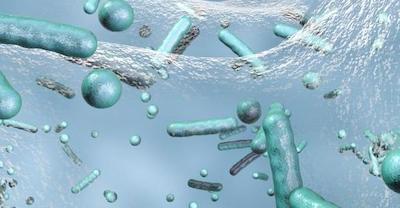 Legionella water testing and risk assessment prices
We have ensured our Legionella water testing and risk assessment prices are extremely competitive compared to other experienced and qualified companies around North London.
To get an accurate quote, please call us on 020 8863 1155.
How often should a risk assessment be completed?
The Legionella risk assessment document should be considered a live document used to support your ongoing risk management process.
Although the frequency depends on any changes to the water systems, treatment failures, increased levels of bacteria or key staff changes, we recommend all companies and landlords perform a risk assessment every 2 years.
How to combat the risk of Legionella?
There are a number of methods used to combat the risk of Legionella, which, when implemented collectively, will prove successful:
Having well designed water systems
Maintaining adequate temperatures outside of 20 – 50°C
Ensuring all areas of the water system have a good through flow of water
Risk assessment and management
Treatment and control programmes
Regular monitoring, inspection, maintenance, cleaning and disinfection
Are you looking for 'legionella testing near me'? For more information about our Legionella risk assessments, give us a call.
Proof of our Legionella Risk Assessment Qualification
Our legionella risk assessment and water systems disinfection for mechanical services training and assessment certificate shown below meets the requirements of the revised Approved Code of Practice (ACOP) and Guidance: Legionnaire's disease: The control of Legionella bacteria in water systems, and the technical guidance HSG274 Part 2: The control of Legionella in hot and cold water systems (HSG274)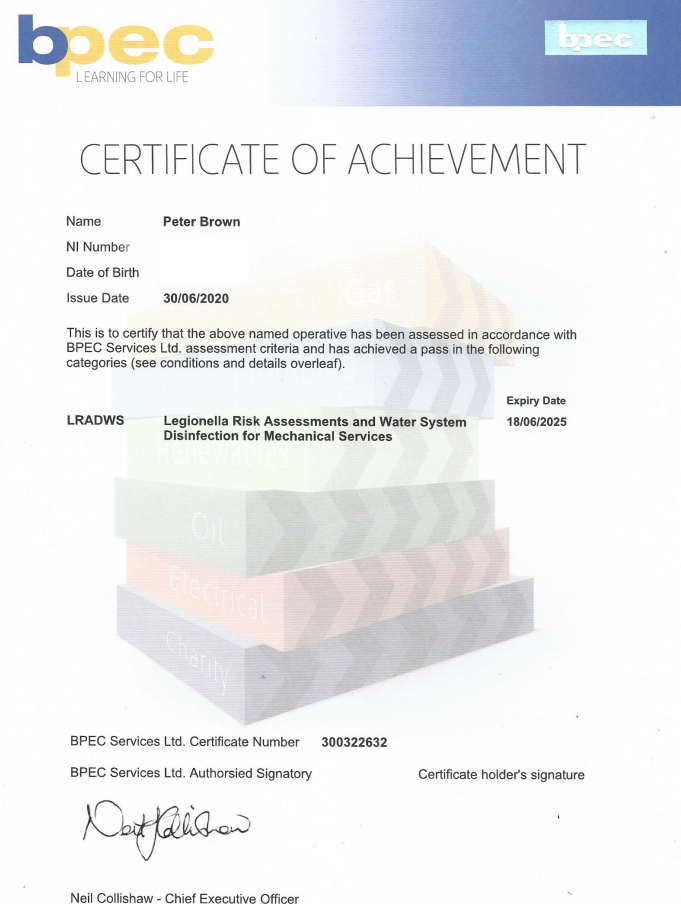 Which? Trusted Trader Reviews
We are proud to be Which? Trusted Trader approved with 5* Reviews. You can read our superb plumbing reviews and feel free to write your own review.